Whether you are growing an established law firm or starting a solo practice, the evidence is clear on specializing: it's necessary and profitable in today's highly competitive legal markets.
The good news is that technology and local internet marketing make it easier than ever to discover where you can focus your legal services in a niched-out way. Here's how local internet marketing programs and SEO shine the spotlight on law practice niches.
Ways Local Internet Marketing Can Spot Niche Practice Areas
Competitor Monitoring – We watch your AdWords account with sharp eyes so whenever something new pops up, we get the details, fast. An AdWords professional can quickly widen the reporting scope inside your account to see if new keyword suggestions are actually worthwhile niches.
Example: Law firms in surrounding areas begin bidding on the key phrase "veterans facing drug charges."
A criminal defense attorney might want to use this information to formulate a viable subspecialty that can be brought into their own service area.
Location Targeting – Successful online marketing means getting geographically specific. Targeting your website content and ad campaigns is essential to local SEO.
A good local SEO agency worth its salt will uncover all of the neighborhoods, townships, cities and counties within your practice state.
Once you have a well-defined service area, you can get hyper-local in your content marketing and/or advertising efforts. Localized SEO blends nicely with niche law practice areas.
Ex: East Boston Drugged Driving Lawyer 
Depending on the market, geo-specific niches can also work as a cost-effective way to boost revenues from all of your legal services over time.
Demographics – We know certain practice areas like Elder Law cater to specific demographics. Internet marketing helps identify demographic subsets you can choose to focus on.
Example: The research and development of your content marketing plan results in a series of articles about prescription drug offenses. Regional research indicates a growing number of searchers for help with these charges are young adults.
The content writer optimizes the articles accordingly and sends you titles with prescription drug offenses + "college students" and "young adults" for approval.
You begin thinking about a niche practice area involving the subject matter of prescription drug crimes coupled with the young adult demographic.
Local Link Building – As we continuously boost a practitioner's visibility through local online link building, we comb through dozens upon dozens of new publications.
If we notice a trend in new section areas or headings in these publications, for example "Cannabis Violations Attorneys" or "Expungement Lawyers," we notify you about their emergence.
Website Traffic Monitoring – Tracking visitor patterns on your website is very informative. We set up reports inside Google Analytics to help identify persistent patterns in the content your visitors read.
A quick email communicates those trends so you can explore the relationship.
Visitor content pattern Example: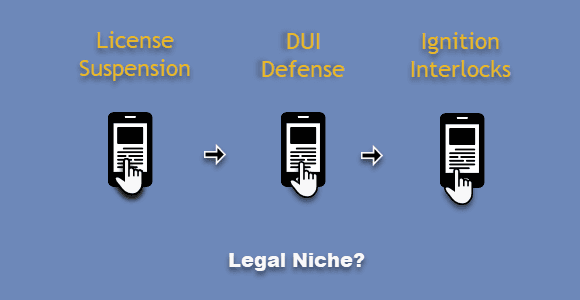 You might find a new legal marketing niche by combining the related issues within the content in a way that makes sense to you, and your prospects.
Landing Pages + AdWords – So you've chosen an area you're interested in focusing on. But how will you know if it's a sustainable niche versus a short-lived trend?
Simple. You tell us what you're thinking and we set up an ad to target the potential. Before committing to a partial redesign of your website, we'll also put up a one-off landing page connected to that niche ad so you'll have full measurement.
The campaign will either gain traction, or it won't. Either way, testing out the niche isn't going to break the bank –but it may well enrich it.
Consulting + Research – It's what we do, essentially.
What if you're starting out and don't have a developed website yet? No problem. We consult with you to build the best website possible, utilizing local SEO and content to outshine your competitors.
Our experts provide next-level research that dives deep into big data to uncover emerging legal needs that might intersect with your skills and passions.
With over 20 years in online marketing, we know how to unleash the power of the web to help your private practice take off!
We've helped many new solos narrow down a specialty to carve out lucrative niche practice areas.
Call us today to discover how we can get you growing 877-870-0416.