By now, you know that Facebook is a 'must be on' platform so your message gets out and your legal services stay in front of your prospects as available solutions. After all, Facebook is where they spend 1/3 of their time online –every day.
Problem is, Facebook has been steadily reducing the organic reach for all business pages across the network (from 30% to as much as 75% by most accounts) in their efforts to grow revenues.
This may seem like a conundrum, but when you understand how to maximize your advertising on Facebook, you'll see how effective it can be in growing your firm's bottom line.
We've compiled 5 surefire ways your law firm can improve upon its advertising efforts to maximize ad performance on Facebook.
1. Get your Facebook Pixel
Installing this chunk of code in your website's header will enable the social network to gather rich data from your ad campaigns such as who clicked through from Facebook onto your landing page, what they did once there, and where they went next.
The pixel provides more than one golden opportunity to gain maximum value from your Facebook campaigns. Initial data collected will tell you which segments of your audiences converted best.
And, if you set up relevant parameters with your next campaign, Facebook will use the pixel to automatically generate lookalike audiences for you!
In sum, using the pixel is a powerful tool that'll keep paying dividends to your firm's advertising ROI.
2. KISS it –Keep It Simple, Silly…
It's tempting to fine-tune your audience until before you know it, your ad is being served to 30+ different targeted interests and audience behaviors.
But Facebook advertising is a marathon, not a sprint. New advertisers should first target what they already know about their prospects. Then, by analyzing the results as they come in, you'll gain additional insights allowing you to reach even more prospects.
For example, if you want to show an ad to users living in Wyoming who may need to file a personal injury claim, you might start by targeting on the keywords:
Falling (accident)                Car accident      Legal advice      Physical therapy
Don't worry if this Audience size seems small –it should be! To gain actionable insights, you need a narrowly defined, properly targeted Audience Segment.
Name this Audience appropriately and save it to your Saved Audiences. A good naming convention is Month/Year – Target  Objective. For instance: Dec2017 –Personal Injury Traffic.
After 24 hours, dig into your ad's analytics to discover areas of unexpected performance that you can capitalize on. Are females 34 – 44 years old significantly outperforming males? In this hypothetical, you'd want to exclude males on the next run to achieve higher ROI for the ad.
Next, you could build different creatives in order to better appeal to the men and test those through a separate campaign.
3. Get Your Creative Right
Facebook is an online network where people go primarily to be entertained. This means your business messages will be interrupting those entertainment and other interpersonal activities on the social platform.
Another conundrum arises; How will I be successful if my ads are seen as disruptive? The answer lies with your creative advertising efforts.
Think punchy, to-the-point headline copy that accompanies high-contrast, high-resolution visuals.
The visual element of your creative is the most impactful because Facebook is a highly visual platform. To engage and convert prospects with your legal ads, you need to captivate your targeted audiences with eye candy in every ad you run.
Let's review an example from the software industry. Any of these insights can also be applied to an advertisement for your law firm.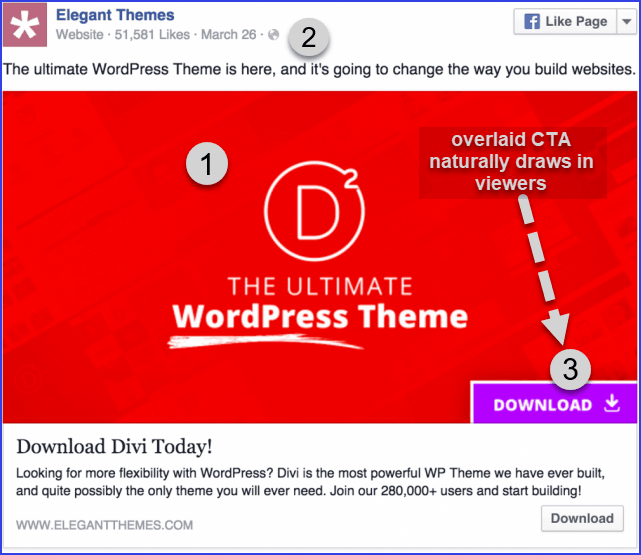 The first thing we notice is the ad's striking red hues. Almost all vibrant colors can work great on Facebook, with one exception… blue tones. Why? Because Facebook's platform is accented in blue tones so your creative can blend right in instead of standing out.
Second, we check out the ad's headline copy after we've been halted by the arresting imagery. This headline is one sentence short, but packs in a lot of punch with a power word ["ultimate"] and hooking phrase ["…change the way you __"].
Third, look at the overlaid call-to-action button. Again, using contrasting colors helps it to stand out even though it's placed in the lower corner of the image.
But why would you use two CTA buttons? We can (barely) see Facebook's button for the same call to action within the lower copy section. However, it's unstyled and could easily be missed.
And, because the internet has conditioned us to always be on the lookout for clickable content, having your action message inside a 'clickable button' on the image is smart marketing.
4. Follow the Rules
An important rule to always follow for every static image ad you run is the text overlay limit of 20%. Facebook enforces text overlay limits because it believes text-free images are what users prefer.
Image sizes for ads and updates should follow best practices for the Network. You should almost always upload images in high resolution at a minimum1024 x 780 for horizontal squares or 1024 x 1024 for portrait squares.
These sizes give optimal rendering and help to ensure that if you have some copy text on your images, they won't be penalized by Facebook.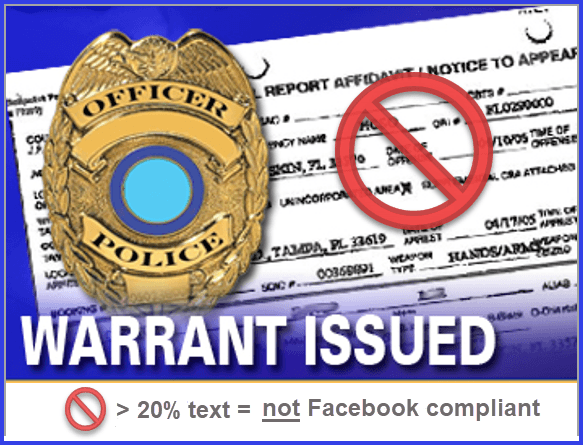 You can use the text overlay analysis tool provided by Facebook here to double-check.
5. Try Boosted Posts
Boosted Posts are ads you can run by turning your updates into full-fledged ads. The process is streamlined through an interface right on your business page via the "Boost Post" button found at the bottom of each update.
Boosted posts tend to look more organic in the User's feed than do most ads run through Ads Manager.
Your audiences may prefer this type of messaging and respond better to a boosted post for certain ad types –particularly for engagement and awareness objectives.
Small Budgets; Big Results
Hundreds of companies average $10k per month on Facebook ads alone. The good news is your firm doesn't need to commit to those levels to see great results.
For smaller budgets, you'll want to incrementally scale up your ad spend over time. This is the best way to advertise on Facebook.
The incremental method ensures you'll get the best cushion for maximizing results along your learning curve.  Once you get the hang of things, you'll be able to reach the right audiences at lower costs. Check out our example below.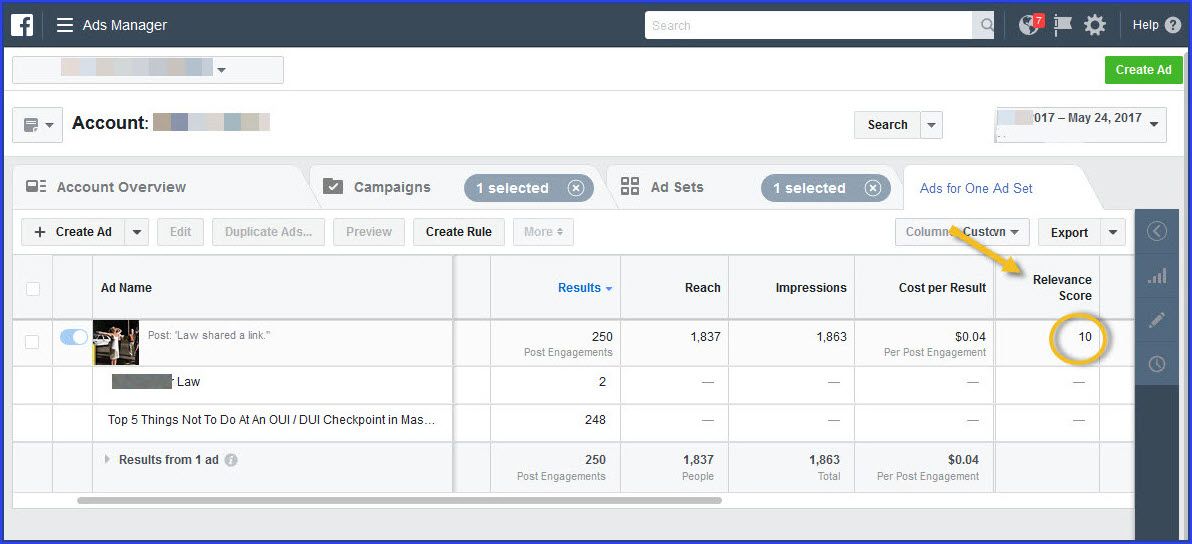 Facebook scores each ad that reaches at least 500 people. This "Relevancy Score" indicates how interested your targeted users were in your creative.
The range is from 1 to 10 where 1 indicates little to no interest and a score of "10" means you've perfectly enticed your targets to take action and engage with your ad.
If you're still not sure of the best way to advertise on Facebook for your law firm, don't sweat it. The social media experts at ClikTru can help!