Getting your legal services in front of prospects when they search for solutions online is a top priority. Stellar articles on your blog act as a beacon for highly sought-after information, while also showcasing your expertise on legal issues to those in need.
Producing lead-generating content is an investment that pays off. But first, your potential clients need to stick around long enough to read it.
Like getting to court early, these blogging tips are simple to implement, yet can have a positive impact on your readers and prospects.
1. Embed Video into Your Posts
HTML5 makes adding native video to any page or post on your website super easy. You can also embed your YouTube videos, as shown below.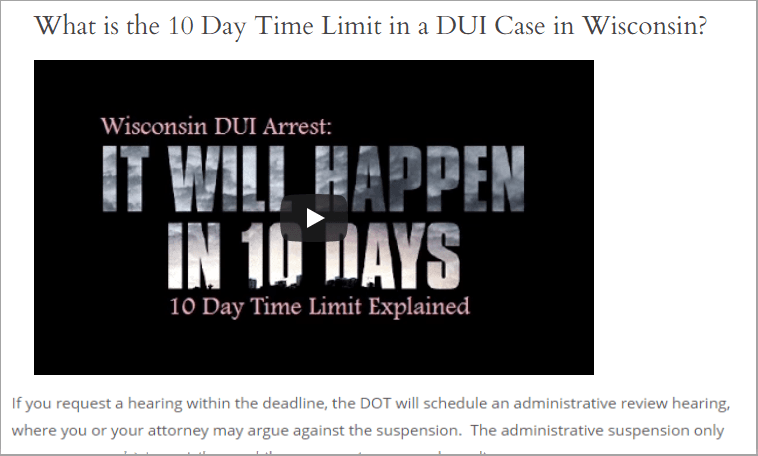 Placing video in between textual content is a great way to supplement your points visually. Plus, video does an incredible job of increasing your visibility, with some 92% of mobile viewers sharing video content out to their social networks.
This brings us to …
2. Let Your Readers Spread the Word
Social media is a must for reaching your prospects everywhere they spend time online. Your website likely has social media buttons loaded in at the top of all main pages, as illustrated here:

These are "follow us" shortcuts that serve to help grow your followers on social, and while important, they do little to amplify the reach of your posts.
Boost every article by adding post share buttons at the end, as shown here. This makes it easy for readers to share your content with their social networks.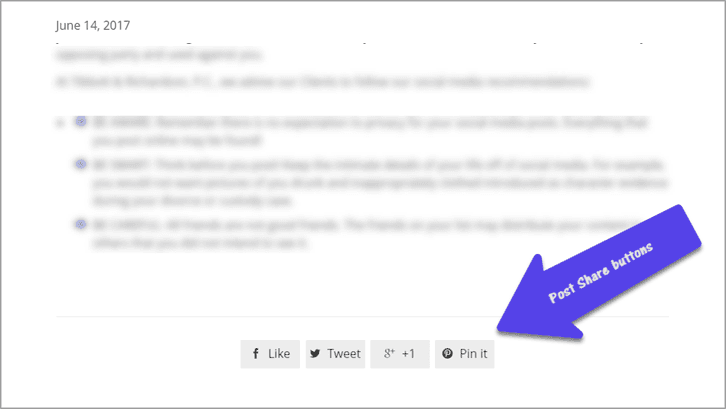 Best practices with adding social share buttons after your content is to be selective and choose only the platforms that are sure to host as many of your prospective clients as possible.
3. Include Intermittent CTAs
You've likely visited pages on the Web with intermittent Calls to Action (CTAs) before. Typically, these are woven throughout the article with copy such as "You may also like," followed by a link to another article on the site.
You can utilize the same technique on your blog. "Recommended Reading," "Suggested Reading," or "Related Information" all work well to nudge the reader to delve deeper into your site's content.

Sometimes, a content CTA can be less conspicuous, but just as effective, as we've highlighted here  "Continue reading" calls are important to include in longer articles.

4. Use Empathy
Empathy facilitates those "Aha" moments when prospects see you and your expertise as the solution for their legal woes. This powerful weapon presents the reader with information they can readily identify with.
Before we get into the specifics of using empathy, let's consider the reader – prospect's content journey, diagrammed below.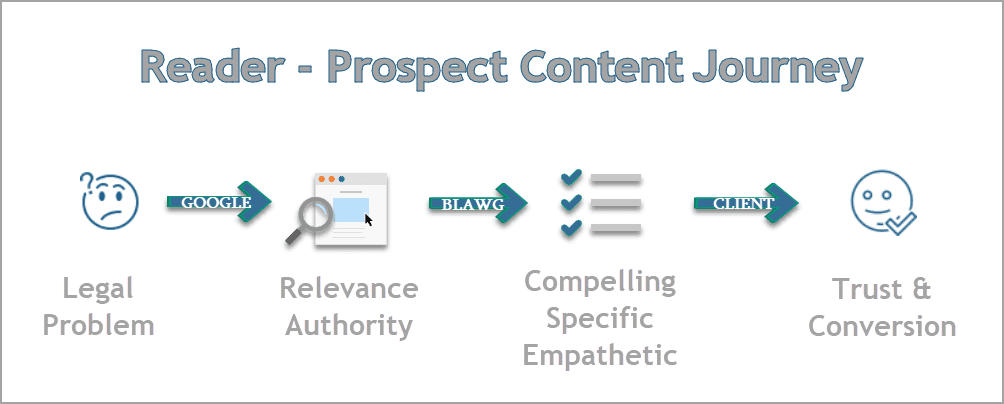 The prospect searches Google because they have a legal problem. It's not necessarily important —yet, whether they know they need your services. What is important is that your law firm shows up on page one or two for their initial query.
That's because searchers today assume the links on Google's first few search result pages are those with the most relevant, authoritative information.
Topic and location-based SEO surfaces your site's relevant pages to the top of Google's results. When prospects like the page summary they see there, they'll click through.
When they arrive on your blog article, they should be greeted by clearly formatted text with related images. Now's your chance to turn readers into clients using empathy:
Empathy equals Understanding.
Show you understand what they're going through by addressing specific concerns related to the issues.
Format these concerns as subheadings and/or questions.
Provide a solution or answer to the question in the first sentence.
Be personable in tone. Address the reader using "you" and "your."
When readers identify their personal issues and concerns in your content, they're more likely to trust that you can help them.
Great! So how do I find these related concerns and issues?
Glad you asked.  We use specialized research tools for our clients that work well with Google Console. But you can also find current leads on related queries and questions using free tools like AnswerThePublic.
5. Nix the Bobbing /Floating Chatbox
Chat Agent add-ons are great, so long as they're helpful to your site visitors and advance your business goals. If your chat agent box animates for large-screen visitors, it may not be a welcomed sight by prospects, or by Google.
Floating chat agents that move with the scroll often result in a negative user experience because people find elements that float or bounce annoying. Worse still, Google may penalize such pages by demoting them in organic search results.
The best way to utilize chat agents on your blog and elsewhere is with static set-points. That way, you keep the convenience feature of live chat while minimizing interference and annoyance factors.
Your blog is an investment that should work constantly to increase your bottom line. If you want more optimization and content strategies, talk with us today.