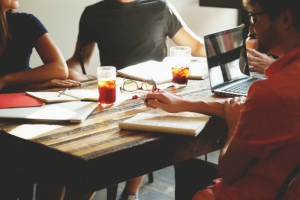 Building backlinks — links that literally link back to your website — can be a sign of quality to search engine algorithms. The more backlinks you have from legitimate sites, the larger your repertoire of materials for the algorithms to consult. Thus, the greater your chances of getting a top spot for local online searches in your niche.
The best part is that obtaining quality backlinks can be easy and low-cost. So forget giving money to shady backlink sites that only hurt your ranking with spam, and consider looking into your communities as a resource using these local backlink-earning methods:
Adding Your Name to Local Directories
Sites like Yahoo Local, Patch and even Yelp all have local hubs. By claiming a business listing or paying a bit extra for a featured, well-optimized listing on their site, you gain valuable backlinks as well as valuable online exposure.
One such directory you should consider is your local Better Business Bureau. By paying an annual fee, you can become a member and project integrity for your firm. You also gain a permanent link on their local directory.
Other sites like yellowpages.com can allow you to list your business quickly, along with a website address, often for free.
Making News in Your Town
Your local newspaper can be of greater value than for simply seeing what's playing or burning a half hour on a sudoku puzzle. Demonstrate your expertise by contributing comments on a recent or developing story.
For instance, if your town has seen a streak of DUI arrests, a criminal law practice could clarify the value of hiring a lawyer (or the consequences of not doing so). Even if your contribution does not relate to a fresh story, some papers and news sites would eagerly publish such a list handed to them if they thought it would be of interest to their readers.
Barring collaboration, you could attempt to become the news by doing something noteworthy within your community. Conduct a book drive, visit a children's hospital ward — efforts like these usually do not go unnoticed by local reporters.
Local Sponsorships
Sponsoring a local charity, team, race or youth event can mean having a juicy backlink on the event's site. Request this as a requirement of your donation, and ensure that you promote the event or sponsorship on your own page and social media accounts as well.
Potentially tackling two birds with one stone, actively participating in the coordination or hosting of the event can mean local news exposure on top of your web-based connections.
Finding Backlink Opportunities with Professional SEO Help
These techniques are just the tip of the iceberg when it comes to backlinking and local SEO. Enlist the help of ClikTru's law firm backlink development to gain valuable clicks and become visible in your community in more ways than one.