As you likely know, AVVO is a service where consumers can get real-time legal advice and see attorney ratings and reviews. According to AVVO, its popularity is because "consumers can effectively compare the available background information of different lawyers" before choosing a specific one.
To make the most of this free service, attorneys should locate and claim their profile. If you have claimed your profile, but are not happy with how you've been rated, then continue reading to discover ways you can boost your AVVO rating.
Maximize Your AVVO Rating by Keeping Your Profile Current
Complete each part of your AVVO profile and focus on areas that are weak or underdeveloped. When filling out your profile information, include beginning and ending dates whenever possible. AVVO uses some of this information to calculate your rating.
While pictures may not be included in AVVO's calculation, they do influence user actions. In fact, profiles that have photos are far more likely to be clicked on than those without.
Attorney Endorsements Increase AVVO Rating
Client reviews are very important to prospects searching on AVVO, yet they don't factor into your score. On the other hand, attorney endorsements (peer reviews) do increase your AVVO rating, by a significant degree.
Thus, endorsements are the best place to focus your attempts to gain points in AVVO's rating system. To start, understand how your practice areas are allocated. AVVO takes your case experience and then weights it by percent. TIP: This and all other information should be as accurate as possible so you do not lose points.
Research indicates you'll get the most points allocated for this part of the algorithm in two ways:
1 . When attorneys who endorse you also practice in one of your practice areas, and these endorsements are proportional to yours.
2 . When the endorsing lawyers have worked on a matter with you or been opposing counsel.
Keep in mind that as of this writing, there seems to be a threshold of 14 endorsements, after which points gained declines.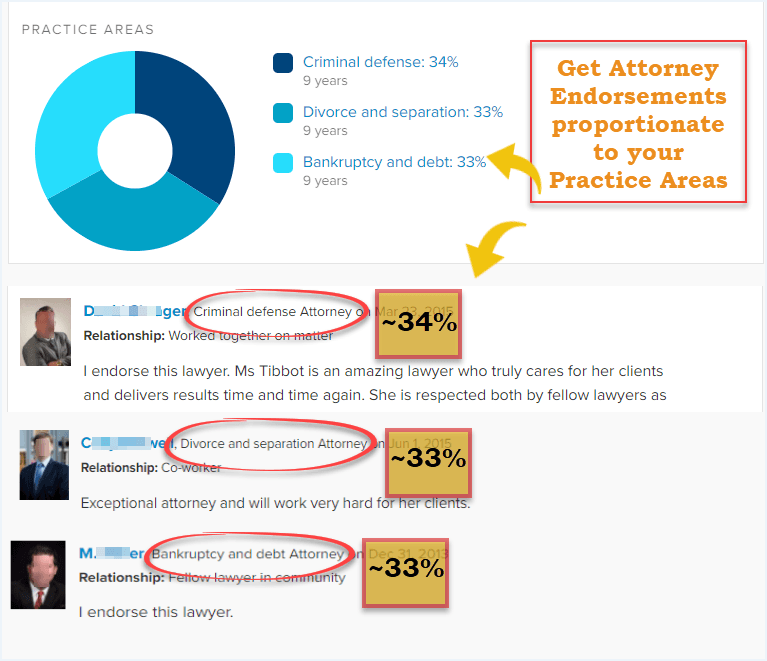 Ideally, when you upload your list of attorney emails for the endorsement process, it should contain at least 14 lawyers who proportionately represent your own practice areas.
In theory, the more weight they attribute to the matching practice area, the kinder AVVO's rating algorithm will be to your score.
AVVO's Attorney Relationship Categories
The second secret to getting all the AVVO rating points possible for your endorsements is to get reviewed by lawyers you've worked with. This status is in the second line of the endorsement, preceded by the tag "Relationship."
The "worked together on matter" category is shown below, but you can gain equal weight from an attorney who was "opposing counsel on matter."
The logical assumption is that an endorser who worked with you on a case and whose concentration is like yours captures 100% of the endorsement weight.

Need help? Contact the lawyer marketing experts at ClikTru today!